R-Safe RFID Safety Switches
Safety switches for position control of movable guards.
R-Safe: Next generation RFID switches
The application of R-Safe RFID sensors can be extremely wide thanks to the
compact and versatile design.
The different design and technology options as well as the complete mechanical compatibility with the Magnus MG and RFID sensors "S" series, make this product extremely valuable for users.
The RFID technology enables R-Safe RFID sensors to be coded in three
different ways to allow the appropriate tampering protection in all applications.
The highest level of coding allows the sensors to be paired only with the assigned actuators. 
The RFID technology used allows to reach safety levels up to PL e/SIL 3 also  when connecting the sensors in series. As a result, R-SAFE RFID sensors can be
simply integrated in existing safety scenarios, offering a cost-effective solution for modifying and upgrading machines.
Download the Brochure
The best for series connections
R-Safe RFID allows individual status reading without the need to individually wire the status output of each sensor.
The best in cost-effectiveness
Wear-free technology allows for longer product life time. Status LED and diagnostic output. Full mechanical compatibility with Magnus RFID and Magnus MG "S" series. Can be used as stand-alone or in series.
The best in safety
Tampering protection in accordance with EN ISO 14119, the highest in its class. Screw covers prevent easy removal. Series connection up to PL e/SIL 3. IP67 and IP69K protection grade for use in harsh environments.
The best in versatility
Triple mounting options. M12 connector, M12 connector with pigtail or cable.3 different coding levels. Extension cables for series connection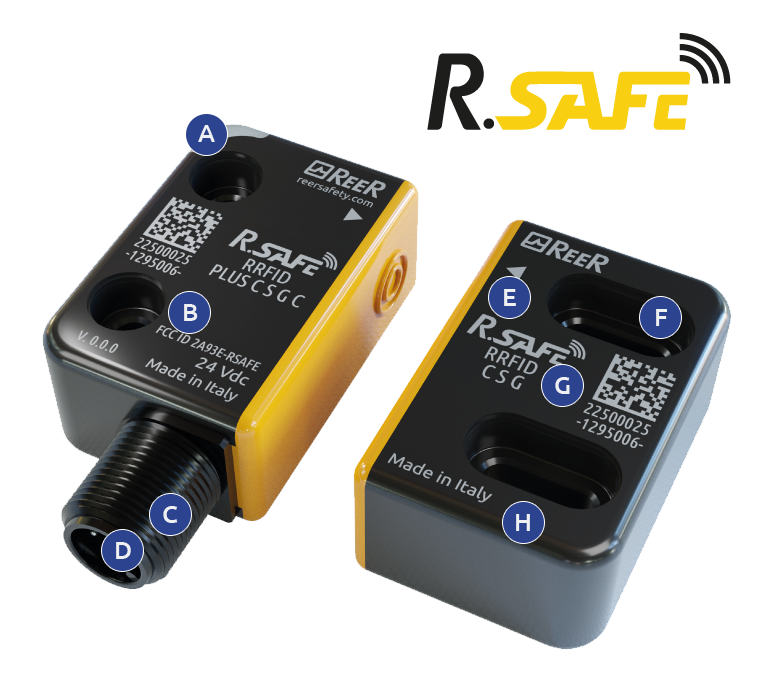 A. Highly visible status LED
B. 22 mm interaxis
C. Series connection with status information
D. M12 connector, Pigtail with M12 connector, 1, 3, 5 or 10 metres cable
E. RFID technology
F. Anti-tampering protection caps
G. 3 different coding levels
H. IP67 and IP69K

Multiple options of actuation technology
Teach-in coding (Plus model only)
The actuator is programmed via teach-in and permanently assigned to the sensor during set-up (the process can be repeated if necessary)
Unique coding
The actuator is permanently assigned to the sensor during manufacturing (it cannot be replaced with another actuator)
Generic coding
The actuator is free and not specifically assigned to the sensor (one actuator can work with multiple generic sensors)
Basic, Pro and Plus models operative modes
The operative mode is set by wire connections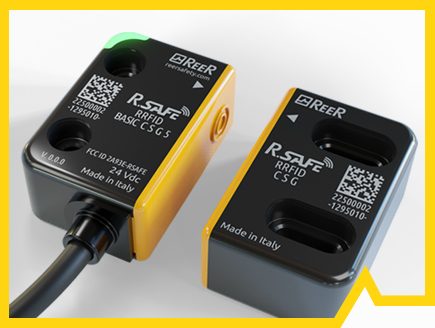 Basic model
Automatic restart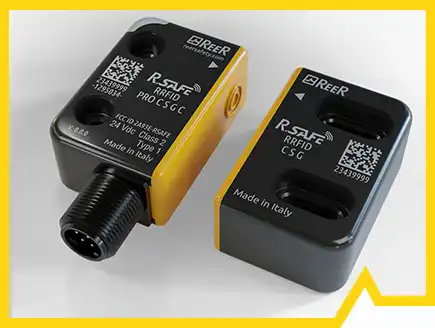 Pro model
Automatic restart (with or without EDM)
Serial connection
Individual status signal for each sensor (notserializable)
Teach in coding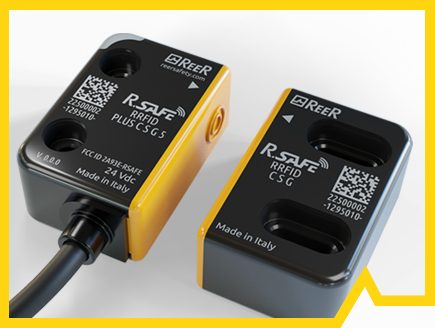 Plus model
Selectable Manual or Automatic restart (with or without EDM)
Serial connection
Serializable status signal with individual status indication for each sensor
Teach in coding