Measurement and automation light curtains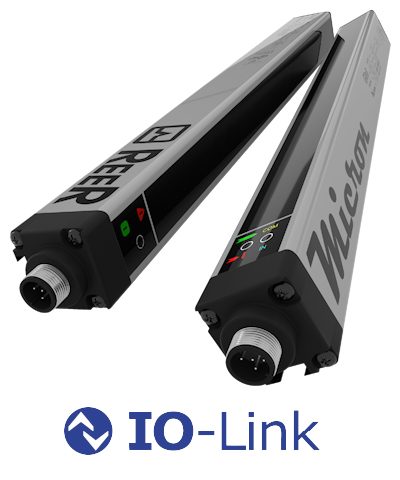 The new Micron IO-Link
Light curtains for industrial and civil applications where it is necessary to detect, measure, and recognise objects. Depending on the number and position of the beams engaged by an object, Micron IO-Link can provide real time information to a PLC in order to: detect the presence or absence of objects, perform a count, detect a position, detect a shape or a profile, measure dimensions.
Data available via the IO-Link process data mapping
NCBO: Number of Consecutive Beams Obstructed

NBO: Number of Beams Obstructed

CBO: Central Beam Obstructed

LBO: Last Beam Obstructed

FBO: First Beam Obstructed

Individual beam status

Curtain Status (Free + Sync)

Object Detected
Technical features
Controlled heights: 150 … 3000 mm
Beam spacing: 10, 30 mm
Max. range: 10 m
Power supply: 24 VDC +/-20%
Connectors: M12 5-pole
Max. length of connection cables between light curtain and master: 20 m
Operating temperature: -10 … +55° C
Protection rating: IP65 and IP67
Fastening mode: back slot as standard, or to the top and lower end with optional rotating brackets
Special versions
WTF and WTHF models (IP69K certified, Ecolab food-graded)
Watertight enclosures allow light curtains and light grids to be used in harsh working environments with exposure to water and steam.
The use of inert and non-toxic components allow WTF and WTHF enclosures to be used in the Food & Beverage industry, where frequent wash-down procedures are required.