Contactless safety sensors
RFID safety sensors
The RFID technology enables Magnus RFID sensors to be individually coded in three different ways to allow the appropriate tampering protection in all applications. The highest configurations allow each sensor to be paired with one only assigned actuator.
The RFID technology used allows to reach safety levels up to PL e / SIL 3
(EN ISO 13849-1 directive) also when connecting the sensors in series.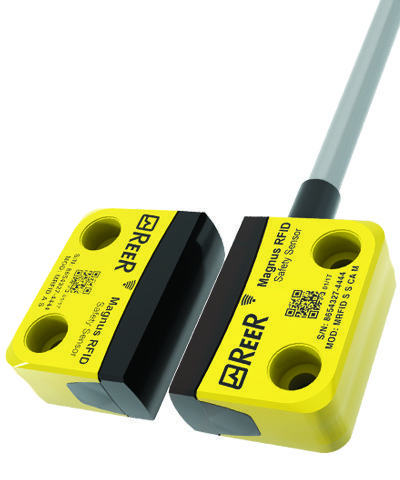 Magnetic safety sensors
Magnus series safety switches can be connected to Mosaic safety configurable controller (PL e) or to the dedicated safety control unit MG d1 (PL d).
MG switches connected to Mosaic safety controller form a certified PL e safety system.
Inductive safety sensors
A complete range of sensors for position detection.
Certified according to the EN 60947-5-3 standard
It guarantees the safety of people and machinery
It does not require a specific actuator
Connecting sensors to interfaces, controllers or Safety PLCs
(for example: AD SR1, Mosaic)
All the models in the range reach the safety level PL d / SIL2.
The PI M30 NF K model reaches safety level PL e / SIL3