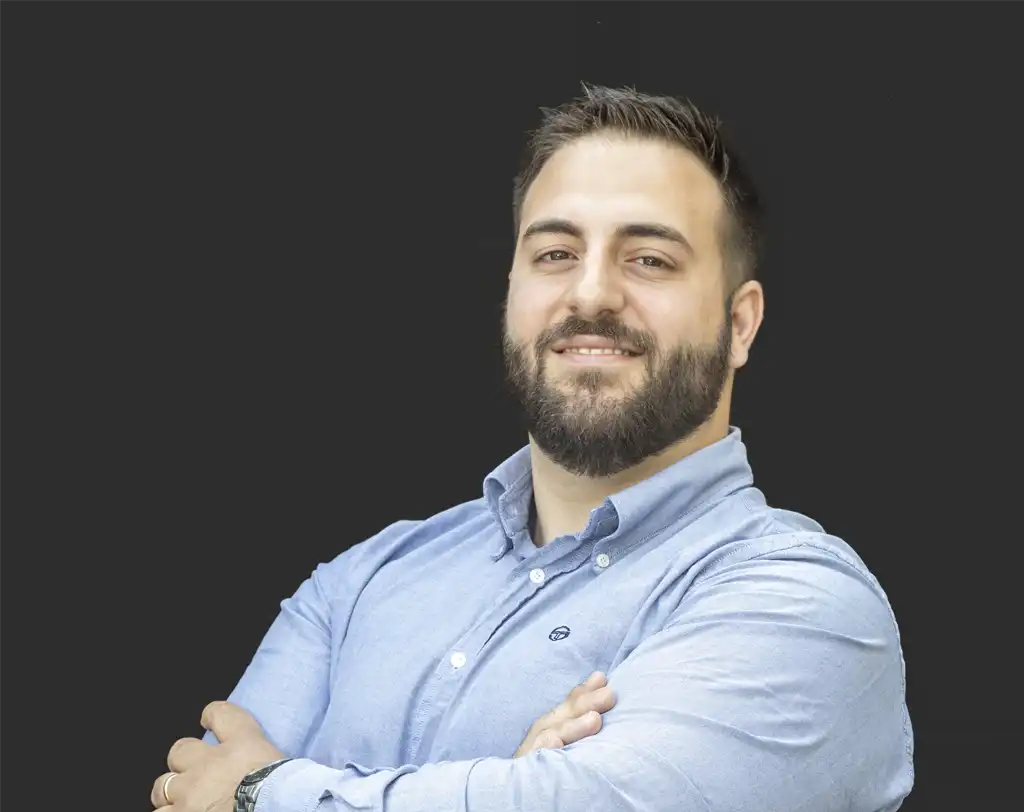 Giuseppe Oliverio
After Sales Service Manager
Giuseppe Oliverio joined ReeR in June 2018, called to support the then two-person after sales team. With a background in after-sales technical support in the industrial sector, he was immediately at ease in the new reality and managed to give a boost to one of the departments that is now more important than ever and able to make a difference in the market. From 2021 After Sales coordinator.
Giuseppe Oliverio joined ReeR in June 2018, called to support the then two-person after sales team.
With a background in after-sales technical support in the industrial sector, he was immediately at ease in the new reality and managed to give a boost to one of the departments that is now more important than ever and able to make a difference in the market. From 2021 After Sales coordinator.
How is your team composed?
I coordinate a team of three people who manage ReeR's technical support both operationally in the field and in the all-around management of the customer, including following the return processes. We have technical skills in technology and IT, which are necessary to properly and promptly perform the task we are asked to do.
How many customers on average do you happen to offer assistance to each day?
On an average day, we provide assistance to approximately two hundred customers. It's worth noting that not all of these requests are related to product issues; many are from individuals who have recently purchased the device and are seeking a better understanding of its features and functionality in order to maximize its potential.
How crucial is it for a company to maintain an efficient customer care team?
Undoubtedly, a robust after-sales service department adds significant value. It not only addresses user issues that may arise during device usage but also plays a pivotal role in the sales domain, aiding potential customers in recognizing the worth of our offerings. This is precisely why our team has been closely collaborating with the sales department and other company entities for over two years. I am immensely pleased with the team; they are seasoned professionals with a wealth of experience.
How does the return procedure work?
Upon receiving a customer's request, our first step is to identify the root cause of the issue. We determine whether it's a device malfunction or a result of incorrect usage. Next, we assess whether we can resolve the problem remotely or if it's necessary to have the device returned to our facilities for further analysis under conditions that replicate the reported issue. Occasionally, our point of contact may not possess the technical expertise to explore all available solutions, and in such cases, we collaborate with trained technicians who can assess the situation, requiring our support mainly for the administrative aspects of the return process. A third scenario arises when we dispatch our team to the customer's location for an on-site evaluation, potentially including the return of the equipment if logistical conditions allow. Regardless of the situation, completion of a return form is essential. This form not only enables us to track the product and interventions but also helps determine the estimated repair time, which typically averages around two working days.
For which products do we receive the most frequent assistance requests?
We observe a relatively consistent distribution of support requests across our product lines. Approximately 60 percent of the cases pertain to optoelectronic barriers, while the remaining 40 percent concern controllers. Assisting with optoelectronic barriers tends to be more straightforward, while controllers, being more intricate devices, require a bit more complexity in problem-solving. Nevertheless, our team excels at delivering dependable solutions with a notable technological impact, even for these challenging controller-related issues.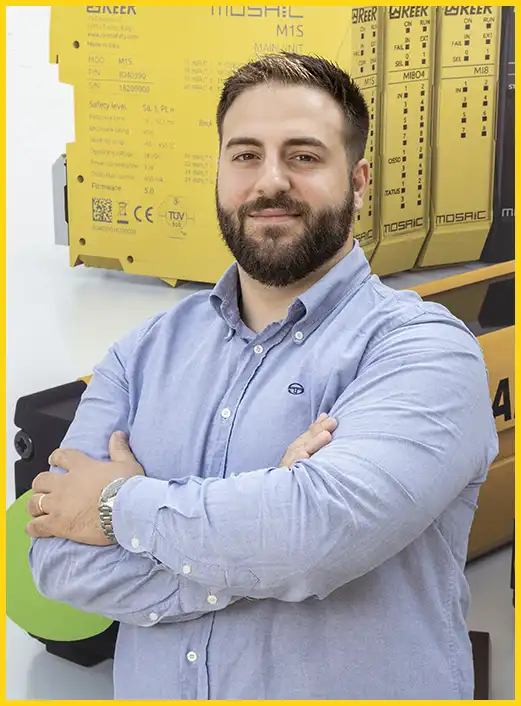 Let's step back, what is your typical day like?
My typical day is highly dynamic. In the morning, I assess the day's workloads and returns, strategize, prioritize items for repair, review incoming emails, and maintain direct contact with customers and ticket openings.
When necessary, I make referrals to corporate entities, particularly quality control, production, and R&D, to provide additional support when our team encounters challenges.
Additionally, we conduct regular meetings with the research and development department to explore potential product advancements.
Does your team therefore also contribute to product development?
Yes, absolutely. Because we serve as the initial interface with the users, our team plays a crucial role in providing valuable feedback. This allows us to compile wishlists of requested features, which we then share with the research and development department. They can consider integrating these suggestions to further enhance our devices.
Our collaboration with research and development is an ongoing and two-way dialogue. We receive training on products set to launch in the market, making us among the first users of each new product. This not only helps us understand how the product functions but also enables us to contribute to debugging and development activities from the early stages. We approach this with enthusiasm because it greatly contributes to our product knowledge, ultimately leading to better customer support. During training sessions, we intentionally make mistakes to understand how to troubleshoot and find the correct solutions to assist real users effectively.
Beyond purely technical training, is there more?
Beyond technical training, there's a critical dimension that should not be overlooked. In the past, technical assistance was primarily handled by entities with exceptional technical expertise, often somewhat disconnected from commercial activities. I make it clear to those joining the service team that technical knowledge alone is not enough. We must also cultivate the ability to listen and understand our customers' needs.
Adding value to our activities requires us to not only provide technical assistance but also to comprehend the unique circumstances of our customers. It's important to consider factors such as their technical expertise – do they possess specific skills? Will they be the ones working with the device, or will others be involved?
In all of this, our relationship with the customer should not be hierarchical, like a master and pupil, but rather a partnership where we offer valuable assistance side by side in problem-solving. This is the approach we strive to uphold.
The answerer must know that the caller expects a solution, and we must convey to him the certainty that he will have it either directly through the expertise of the service team or of this one in synergy with other entities in the company. The message we try to get across is: there is no problem for which there is no solution. This is our added value.
How has the way service delivery evolved over time at ReeR and is there room for technology in this activity?
Service delivery at ReeR has evolved significantly over time, adapting to the changing technological landscape. Initially, our service was primarily conducted through emails, phone calls, and traditional return paperwork. However, this approach had its inherent risks, such as the limitation of phone support and the possibility of needing on-site visits, only to find that the device was functioning correctly or encountering unforeseen issues. In some cases, perfectly operational products were returned, resulting in wasted time and additional expenses.
To address these challenges, our team has made substantial investments in continuous training to gain an in-depth understanding of each product. This knowledge enables us to quickly identify and diagnose any issues. Additionally, our devices are designed with internal self-diagnostic technologies, which aid us in troubleshooting.
Furthermore, we've recently introduced a new controller model that allows us to remotely access error histories, manage functions in real-time, and perform diagnostics analysis. This direction aligns with our commitment to incorporating more advanced technology into our products, a trend that we plan to continue and expand upon in the future.
How do you foresee your support services evolving in the future?
Firstly, we hope to automate various tasks, particularly paperwork involving other departments within the company, such as the purchasing office and the warehouse. This automation will streamline processes, allowing us to respond more quickly to customer needs and freeing up time for us to deepen our technical knowledge and enhance customer relations.
We also expect our product portfolio to include an increasing number of devices equipped with remote connectivity, enabling us to provide solutions and support remotely. ReeR has been on this path for the past year and a half, and we anticipate it will continue.
Furthermore, we hope for the continued growth and consolidation of the ReeR Group. This growth would provide us with the opportunity to expand our team, allowing us to define more specialized roles that align with business development and the company's market expansion. This will enable us to meet the evolving support needs of a growing user base.
Our support service is indeed a significant asset and strength for ReeR, and we've received excellent support from the company's management and various internal divisions. With these developments, we aim to further enhance our support services, and I personally take great pride in our achievements.